Coval is looking for new talents
---
Our team of specialists is always on the lookout for new talent with potential to reach great heights.
---
Join the ranks of the leader in the distribution of high-end stoves, fireplaces and barbecues and develop your full potential with our advancement opportunities.

When you are hired at Coval, located in the heart of the Varennes industrial park, you become a part of the family. Become an expert at the service of specialists and benefit from the many advantages that have characterized our caring company for over 40 years.
Reveal your full potential


Coval is a fast-growing family business in Quebec that strives to establish an open-door management system, to ensure the development of its employees' skills by encouraging continuous training and maintaining a pleasant, collaborative and friendly work environment.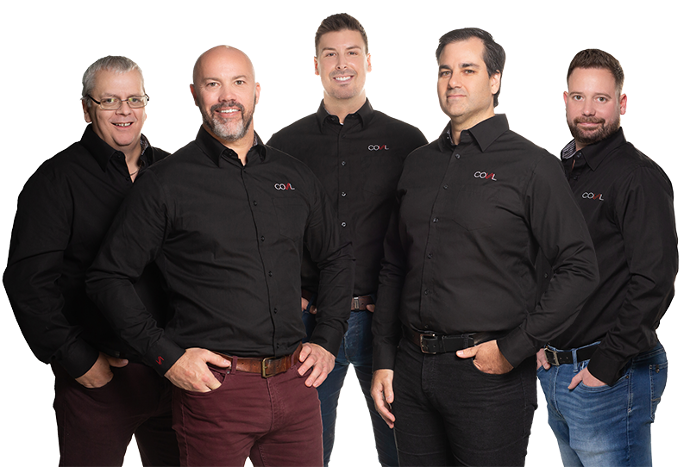 Friendly and stimulating work environment

A close-knit team, where a spirit of open camaraderie reigns. Understanding, sympathetic and attentive management who prioritize an open door policy.

Modern office

A large, clean and heated warehouse recently expanded, a large sunny cafeteria and an outdoor layout are available to team members.

Excellent group insurance

Including a roadside assistance program, travel cancellation insurance, compassionate leave coverage and an employee assistance program.

Social activities

Whether it's an after hour, a BBQ dinner, a hot air balloon ride or a pool tournament, our dynamic social club keeps our team together and entertained!

Employer-sponsored RRSP
Coval employees have the opportunity to contribute to an employer-sponsored registered retirement savings plan.
Hybrid telecommuting formula

Depending on your profession, Coval offers a hybrid telecommuting formula as well as the modern equipment necessary to achieve your goals.

Competitive salaries

With a great concern for salary equity, Coval makes sure to offer competitive salaries on the market and encourages the continuous training of its experts for helping specialists.

Telemedicine service

Because we care about the health and well-being of our team, a telemedicine service is offered with our group insurance.

Gym

A caring company that encourages wellness and healthy lifestyles for its employees by providing a complete gym and the coaching services of a kinesiologist.

Physical activity program

Coval offers a physical activity reimbursement program, up to $250 per year.

Several positions available
Consult our offers or apply now with our spontaneous application form.

1605 Lionel Boulet
Varennes QC J3X 1P7
Canada

1605 Lionel Boulet
Varennes QC J3X 1P7
Canada