Commercial warehousing and logistics service

Live up to your expectations
Are you looking for a partner for warehousing service? For more than 40 years, Coval has been distributing auxiliary heating products. Serving as a delivery point for nearly 400 customers across Quebec, Ontario and the Atlantic regions, we also work in collaboration with more than 20 suppliers from all over the world. With cloud computing technologies allowing efficient inventory management, we move nearly one millions items through our warehouse each year.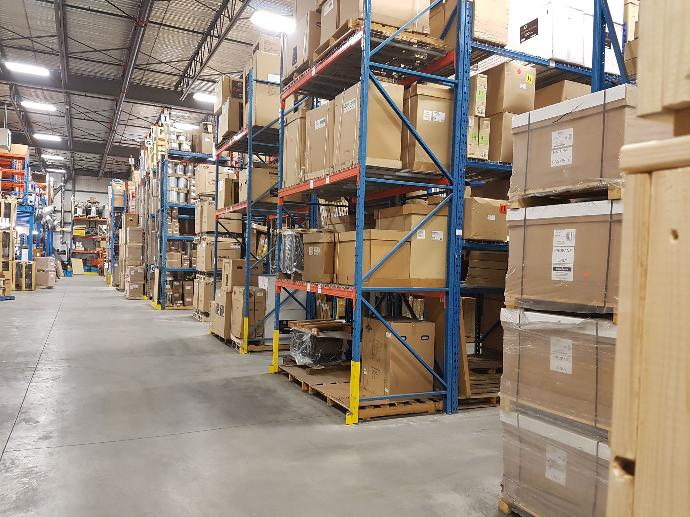 ---
Thanks to the strength of our team and our partners and the expertise we acquired the heating and household appliance industry, we are now ready to offer warehousing and logistics services to others companies and suppliers in almost all areas of activity.
If you're therefore looking for a partner for the storage of pallets and a company that can manage the reception and shipping of your products, Coval is the solution. We are located in a strategic location near highways, we are ready to solve your logistics needs in our brand new and modern warehouse
OUR SERVICES
Storage of products or pallets
Inventory management
Receptions and deliveries management
Transport planning
Deliveries by the piece or by the pallet as needed
Flexible product entry and exit options
COMPLETE SOLUTION
We take care of your products from reception to delivery. Let our team do the transport management, organization of your products, pick-up, packaging and loading of your products for you.

ADAPTED TO YOUR NEEDS
We can store 40" x 48" x 72" pallets or non-standard sizes to accommodate you. Our warehouse offers a hybrid storage mode with floor and high spaces with pallet racks. Accessible by a loading dock or by a door at ground level, we are able to receive all types of transport.

MODERN WAREHOUSE
Our inventory, order and delivery management systems are cloud-based and our team works with scanners connected to our ERP infrastructure to avoid errors. Our warehouse has been specially designed for commercial storage. Recently built, it has new equipment, is perfectly temperate and benefits from regular maintenance to avoid dust.

DECADES OF EXPERIENCE
For more than 40 years, Coval has worked in the field of distribution. Serving hundreds of customers and a wide variety of suppliers worldwide, our team and processes are proven and continually improving.
We are located near highways
Une adresse doit être spécifiée pour qu'une carte soit intégrée
Warning
We cannot store the following products type
Food or perishable
Medical
Chemical that is flammable or may change depending on the temperature
Hazardous material
Fragrant products
Any product whose possession is illegal